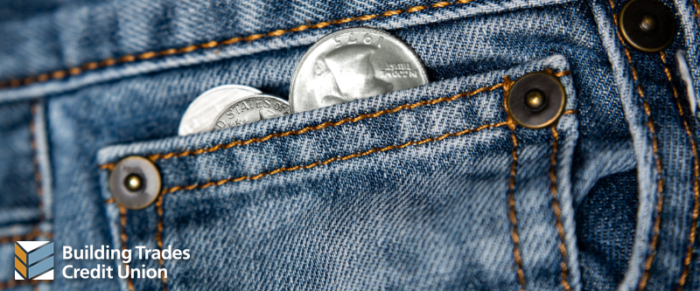 Build your savings automatically with BTCU's Pocket the Change savings program.
Pocket the Change is a debit card round-up program designed to help you save.
How it works:
If you have a BTCU checking account, see a Member Service Representative to enroll in Pocket the Change. Once enrolled we will round up your debit card purchases to the nearest dollar and transfer the difference to a savings account of your choice daily.:
Its an easy way to watch your savings grow.
*If on any business day you do not have sufficient available funds in your checking account, or if any transaction has overdrawn your checking account, we do not round-up purchases posted on that business day and we cancel the Pocket the Change transfer for that day.
Start Saving Today!
Contact us to add Pocket the Change savings program to your Union-Built FREE Checking account today.
Become a Member
Are you ready to become a BTCU member? Click below to complete our online application.
Need Help?
Give us a call. 763-315-3888 or
Toll-Free 1-800-496-2460
Monday – Friday: 7am – 7pm
Saturdays: 7am – 4pm
Or Contact Us by Email